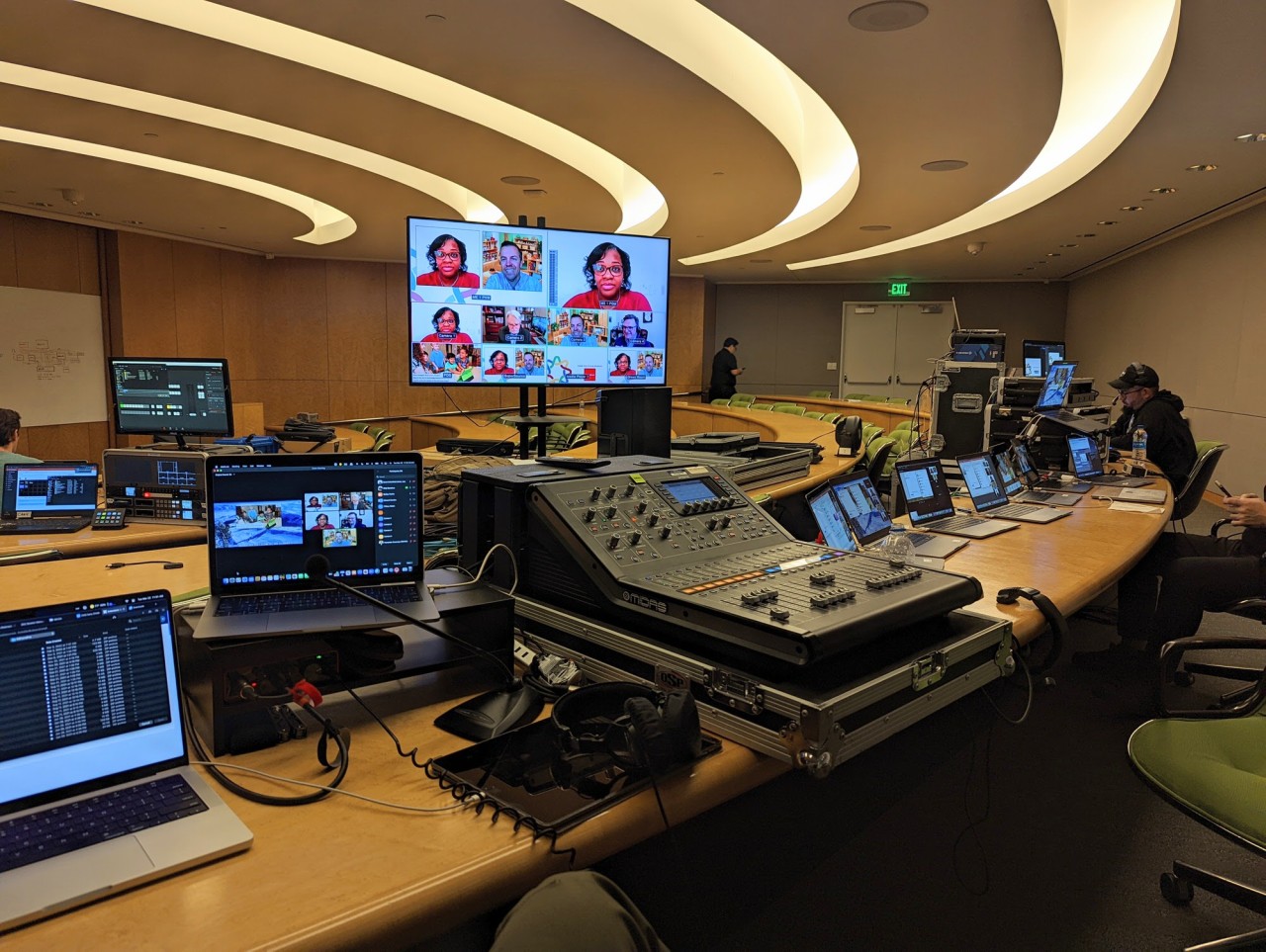 While audiences seem to be eager to get back to in-person events, there's no denying that the pandemic has created a new level of acceptance and awareness around attending events online. It's now expected that most events will provide an online alternative for those who are unable or unwilling to attend in person.
Many conference presenters have also gotten used to presenting in front of their computer. Whether it's the CEO who has to attend a board meeting in Europe or the doctor who just got out of surgery, the option to present virtually gives many presenters the ability to participate in events they would otherwise be forced to miss.
These hybrid events present unique logistical and technical challenges for event organizers and the AV teams. At VIP Audio Visual, we were one of the few AV companies with experience in hybrid events pre-pandemic, although the last few years have certainly given us a lot more practice!
Producing for remote audiences
Audiences who are viewing the program from their home or office shouldn't be treated as "second class". Every effort should be made to provide them with a quality product that is just as good as the in-person experience.
VIP Audio Visual creates custom broadcast streams just for our online audience, giving them exactly what they want to see throughout the event. While it may make sense for the PowerPoint slides to be full-screen on the projection screens in the room, that would get pretty old for the online viewers. Our techicians will create a second "show" for the remote audience separately from the in-room feed, mixing multiple camera views, full screen slides, and picture-in-picture effects that give the remote viewers a broadcast quality experience.
These streams are custom-branded for your event, with backgrounds, lower-third titles, and other elements which provide visual interest and engagement as they reinforce your image.
Integrating remote with live
A common problem during hybrid events is that the remote audience often seem to be cut off from the live venue. Participating in Q&A or other audience interaction is more difficult for an audience that feels "out of sight, out of mind".
At VIP Audio Visual, our technicians can fully integrate the broadcast gear with in-room equipment, providing seamless 2-way audio and video feeds. This integration allows your remote audience to ask questions and give feedback just as if they were in the room.
Enabling remote presenters
When it's time for a remote presenter to take the stage, we have the solutions to make it an engaging experience for both the live and remote audience. Our technicians coach each presenter prior to going live, helping them set up their computer camera, lighting, and audio for optimal quality.
We utilize special techniques for PowerPoint or Keynote slide decks as well. We run "clean" versions of the slides that ensure your audience has an uninterrupted experience regardless of difficulties with screen sharing, notifications popping up, or other problems on the presenters computer.
When it comes to showing the actual presentations, we have multiple options to provide the best experience for your live and remote audiences, depending on the setup within the room. If we have multiple screens, we can often use one for the presenter's camera and the other for their slides. Or, it may make more sense to use a picture-in-picture where we can see both on the same screen. Our advanced video gear gives us the ability to provide maximum flexibility and adapt on the fly to whatever works best for your event.
---
Even with the continual challenges that live events present, our team at VIP Audio Visual is well equipped to handle them. Our extensive experience in live, virtual, and hybrid events means that we can work alongside event planners and management teams to provide consulting and input on how to make your next hybrid event a success.
If you'd like more information on how we can help, or just need some advice as you're planning for your event, feel free to give us a call, or reach out online.