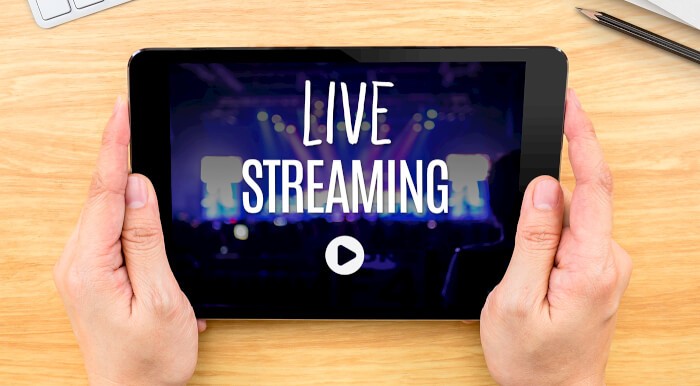 Only a couple of years ago, live streaming your corporate event was considered cutting edge and fairly exotic. Today it is common, and often expected.
The advantages of running a live stream are obvious. You can reach a much broader audience when people don't have to leave their homes or offices to participate in your event. Facilities, travel, lodging and meal costs are all reduced. Recordings of the event can be embedded on your website, making it available indefinitely for those who weren't able to watch live.
As with anything though, there's a right way and wrong way to do this. We've seen Fortune-500 companies try to stream major events using nothing more than an iPhone duct-taped to a tripod in the front row. Needless to say, the results left a lot to be desired.
There are a lot of variables to consider when planning a live streaming event. These are a few of the questions you should be asking yourself:

How big will my audience be?
Do I need multiple camera angles?
Should the stream be recorded?
Does my audience need to see the on-screen presentations?
Does my venue have sufficient internet bandwidth to support streaming?
Can the venue provide dedicated bandwidth separate from the rest of their systems?
A quality live stream usually incorporates high quality video of your speakers, combined with live capture of the graphics presentation (PowerPoint or Keynote). These sources can be switched back and forth, or shown simultaneously on screen in a Picture-in-Picture (PIP) layout. The audio feed is taken directly from the sound board, ensuring clear and easy to understand sound. At VIP Audio Visual, we also record independent streams from the cameras, the graphics input, and our "mix", or final output from the switcher. These independent recordings ensure that we can re-create the presentation if something happens to the internet stream.
An important factor when planning your live stream is to choose the right streaming platform. There are a lot of options out there, and determining which one is right for you usually starts with identifying your audience.
If your event needs to be secured for internal use or selected customers, consider a solution like WebEx or Zoom. Our streaming systems can seamlessly integrate with these platforms while providing advanced features like access restriction, live chat, 2-way audience interaction with your live event, moderator control, and more.
If your stream is open to the public, the options expand dramatically. Livestream is specifically designed for hosting live events, with many specialized options for corporate use. Facebook Live, YouTube Live, and Vimeo are video hosting services which also offer streaming features. All of these platforms will allow virtually unlimited audience size, stream recording, and will allow you to embed the stream into your company website or intranet both during and after your event. Our team at VIP Audio Visual can review your needs and help you select the right platform.
Once you've selected your streaming platform, you need to make sure that you have the right technology on hand to support the event. Our production team has years of experience with corporate event production and live streaming, and can customize a package that has everything you need, whether you're looking for a simple single-camera shoot or a larger production featuring multiple camera angles, on-screen titles, and more.
Our typical gear list for this type of project will include:

Cameras
Switchers
Graphics processing
Live titling
Video encoding
Audio capture
Streaming software
Recording backups
Camera support
Lighting
Networking and internet
At VIP Audio Visual, our team has the equipment and experience to make your live stream a success, regardless of the scope of your project.