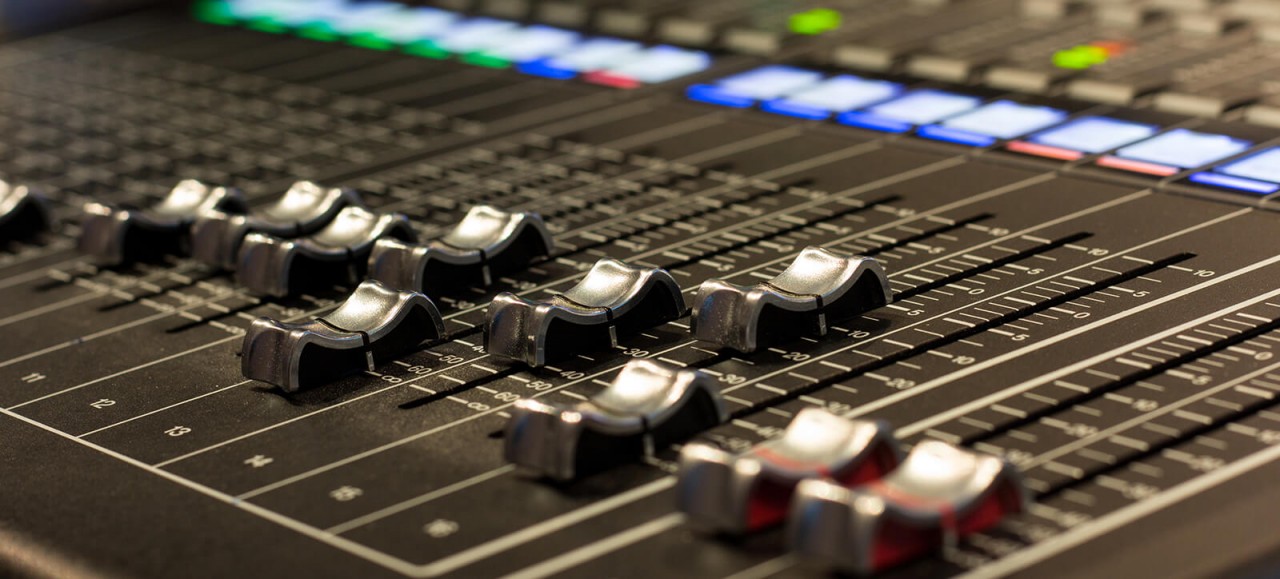 It's fairly obvious: you can have the perfect venue, a perfectly planned event, and great speakers with amazing presentations, but if your guests can't hear well then it's all for naught. Having good audio is one of the most important elements of your meeting, and it doesn't "just happen". Setting up any venue for good sound requires careful planning, good equipment, and professional expertise.
Plan Well
Some rooms naturally sound better than others. In a perfect world every meeting would be held in a carpeted room with non-square walls, no windows, padded chairs, and oversized draperies on the walls that absorb sound. In the real world though, that's unlikely to happen. Corporate meetings take place anywhere from hotel ballrooms, to winery barrel rooms, to outdoor tents. Each venue has its own acoustic signature that brings a unique set of challenges.
Listen carefully to the room when you do your site visit. Noisy, "slappy" rooms where you can hear the echo of your footfalls or reverb from your voice will require specialized audio equipment. If you're concerned about how it's going to sound, ask your AV team to visit the site with you. Our producers at VIP Audio Visual are always happy to evaluate a venue and provide recommendations prior to an event.
Don't Skimp
Make sure that your AV team is up to the task. Corporate AV requires a different skill set than Rock 'n Roll or DJ'ing a wedding. Our audio crews use quality speakers, microphones, mixing equipment, and processing gear to fill every corner of your venue with rich sound that makes each person feel as though they're sitting right in front of the stage.
Meet the Team
When your quote comes in, you'll probably see labor quotes for a variety of positions. Who are they, and what do they do?
The audio lead is the engineer who has overall responsibility for the audio department. This is the person who determines speaker placement, hooks up the audio console and any auxiliary processing equipment, and actually runs the board during the event. Within the crew, this position is known as the A1.
On most small or mid-size shows, the A1 or another qualified crew member will handle placing mics on presenters and briefing them on their usage. On larger shows, especially when presenters enter and exit from backstage, taking the A1 away from the sound board can cause trouble. In these situations we'll add an A2 to assist. The A2 will place mics on presenters and get them back after a presentation, keep track of handheld mics in the room, and more. The A2 also monitors the wireless mic rack to keep an eye on battery levels, RF interference, and frequency assignments. On many events the A2 also doubles as a stage manager, making sure that presenters make their way backstage from the green room, providing walk-on cues, and managing stage equipment between sessions.
While not specifically dedicated to audio, the A1 and A2 coordinate closely with producers, stage managers and video engineers to ensure that the entire event is handled proactively rather than reactively.
Planning for Mics
How many mics do you need? What kind? As you're planning your program, think through each presentation and decide how many mics will be needed. Are you having a panel discussion on stage? How many people will participate? Do they all need lavalier (clip-on, or "lav") mics, or can they pass handheld mics around the group? Will there be audience Q&A?
Consider asking your presenters what kind of mic they prefer. Some professional keynote speakers actually prefer using a handheld mic. Many pros like using lightweight headset microphones. Most are just fine with a lav mic. Whatever their preference, we can accomodate them as long as those needs are known ahead of time.
You should also plan how mics will be placed and removed from presenters. If we don't have an A2, it's best if mics are placed during breaks. This means you need enough mics for every presenter in any given session. If we have an A2, there is more flexibility with placing and removing mics during the live event. At a minimum you need enough mics for the maximum number of people you'll have onstage at a single time, plus the next group that will come up.
---
There's a saying in the A/V industry that people will forgive bad visuals, but they won't forgive bad sound. The good news is that with the right people and the right gear, any event can sound great!