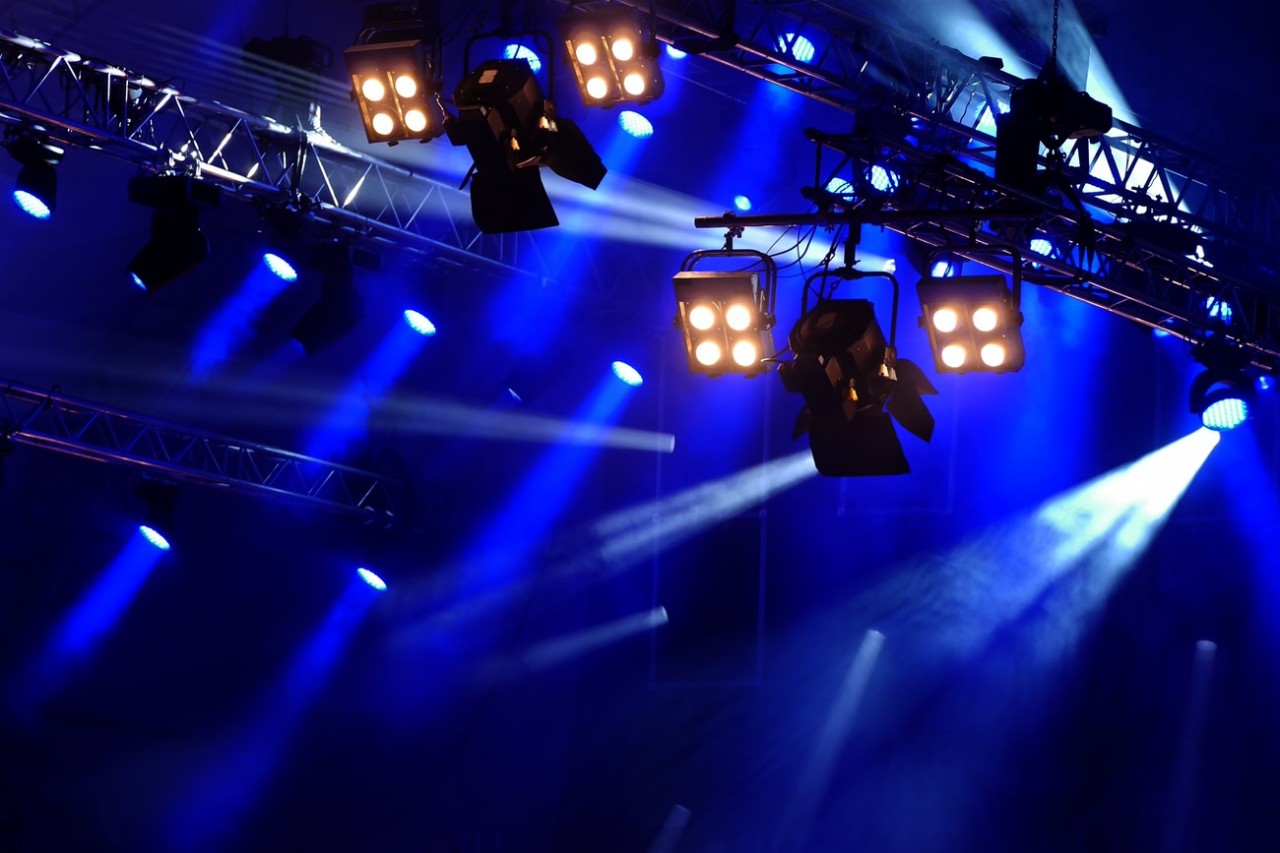 Good sound and video are cornerstones of any effective presentation, but when you're ready to take your event to the next level, it's time for lighting.
Stage Lighting
Stage lighting is usually accomplished using ellipsoidal reflector spotlights, commonly referred to as Lekos. These lighting instruments can throw light from some distance away. The lensing installed on the instrument determines how large of an area can be illuminated. Standard Leko lenses include 19°, 26°, 36°, and 50°. Wider lenses will cover a larger area, but since the light output of the lamp is spread wider, they appear slightly dimmer than narrower fixtures. The lenses required are dependent on the size of the stage, the distance of the lights from the stage, the brightness of the room, and a variety of other factors. A typical stage lighting setup will incorporate a combination of wide and narrow lenses to provide an overall "stage wash", plus a "special" on the podium, panel chairs, or other areas of interest on the stage.
For larger shows or anytime we're using cameras for IMAG or streaming, we recommend adding backlighting to the stage. Backlights are placed up high on the back of the stage to create a highlight on the speaker's head and shoulders. The highlight helps separate the presenters from the background behind them, providing the perspective of depth and eliminating the "floating head" effect that occurs when your presenters are wearing dark clothing and standing in front of black drape or set pieces.
On smaller events, a stage lighting package can be as simple as 2-4 Lekos on light stands placed anywhere along the sides of the room in front of the stage. Larger events will usually involve more complex lighting, with dozens of lights mounted on truss near the ceiling to provide a variety of looks on stage.
Accent Lights
Taking things beyond the basics, accent lighting is the fastest and least expensive way to take your venue from average to "wow". High quality LED lighting fixtures are capable of producing a wide range of colors. Lighting designers use color to paint the room, creating accents and visual appeal on the stage and beyond. LED Batten lights are long strips of light (usually either 24" or 48") which are commonly placed behind the stage, shining up on the drape. Battens can create a smooth, even blend of light along a drape line, wall, or set piece.
Can lights are brighter, non-lensed fixtures which create an intense color effect on a defined area or object. Lighting designers will often use can lights to accent a set piece, signage, truss, or simply create interesting patterns on walls and other parts of the room.
The low power requirements of LED can and batten lights mean that many of them are available as battery-powered fixtures with wireless control, allowing us to place them all around the room without running cables everywhere for your guests to trip over.
The Lekos used for stage lighting can also accept Gobos, which are glass or steel inserts laser-cut into a pattern. Patterns can be used to simulate foliage, crystal, window panes, or completely random patterns which break up the area of light and provide visual interest. Gobos are often used to project corporate or event logos on the set, walls, or even the floor.
Moving lights are the motorized fixtures you see at concerts and theatrical productions. The motorized lights, or "movers" can be programmed to project light in any direction, in any color, with or without gobos. While they're complex to set up and program, movers provide lighting designers with an enormous amount of flexibility and creativity when the event calls for it.
Supporting the Instruments
How the lights will be mounted is usually determined by the number of lights required. Pipe and base stands equipped with a spreader at the top can hold as many as six lights each, although they're ungainly and difficult to work with. Rolling stands (Matthews stands) can also carry 5 lights. These are easier to work with and provide the lighting designer with more control, as the lights are more firmly affixed and don't move around as much when you're trying to adjust them.
Complex setups usually involve truss, which is flown from the ceiling. This requires qualified riggers who can ensure the safety of the setup.
Safety
Lighting isn't dangerous as long as basic safety precautions are observed. As an event planner, you're unlikely to be working alongside your AV crew to install lighting, but if you're aware of these safety requirements you can check to ensure they're being followed.
By its very nature, lighting involves heavy fixtures mounted high in the air, often on stands with narrow bases. Every instrument that isn't sitting on the floor should be attached to its stand or mounting apparatus with a steel safety cable, which prevents it from falling should it come loose. Light stands must be weighted with sandbags, and protected from being bumped or tripped on. Cables should be securely fastened. Cables left where they could snag on someone's shoe could pull the entire light stand down.
Flown sets should be planned in advance and signed off by a certified rigger, who is responsible for ensuring that the truss, fly points, and all rigging hardware are capable of carrying the weight.
Finally, the electrical requirements should be considered. LED lighting draws miniscule amounts of power compared to the power-hungry incandescent lighting of only a few years ago, but overloaded circuits can still generate heat and start fires.
---
Lighting is an area where you'll have a lot of flexibility. Some shows can get away with two lights focused on the podium. High-end events often use dozens of fixed instruments, movers, haze, and color accents. Wherever you are in this spectrum, the creative team at VIP Audio Visual can discuss your needs and help you create a lighting solution that is visually appealing and makes your event look great.