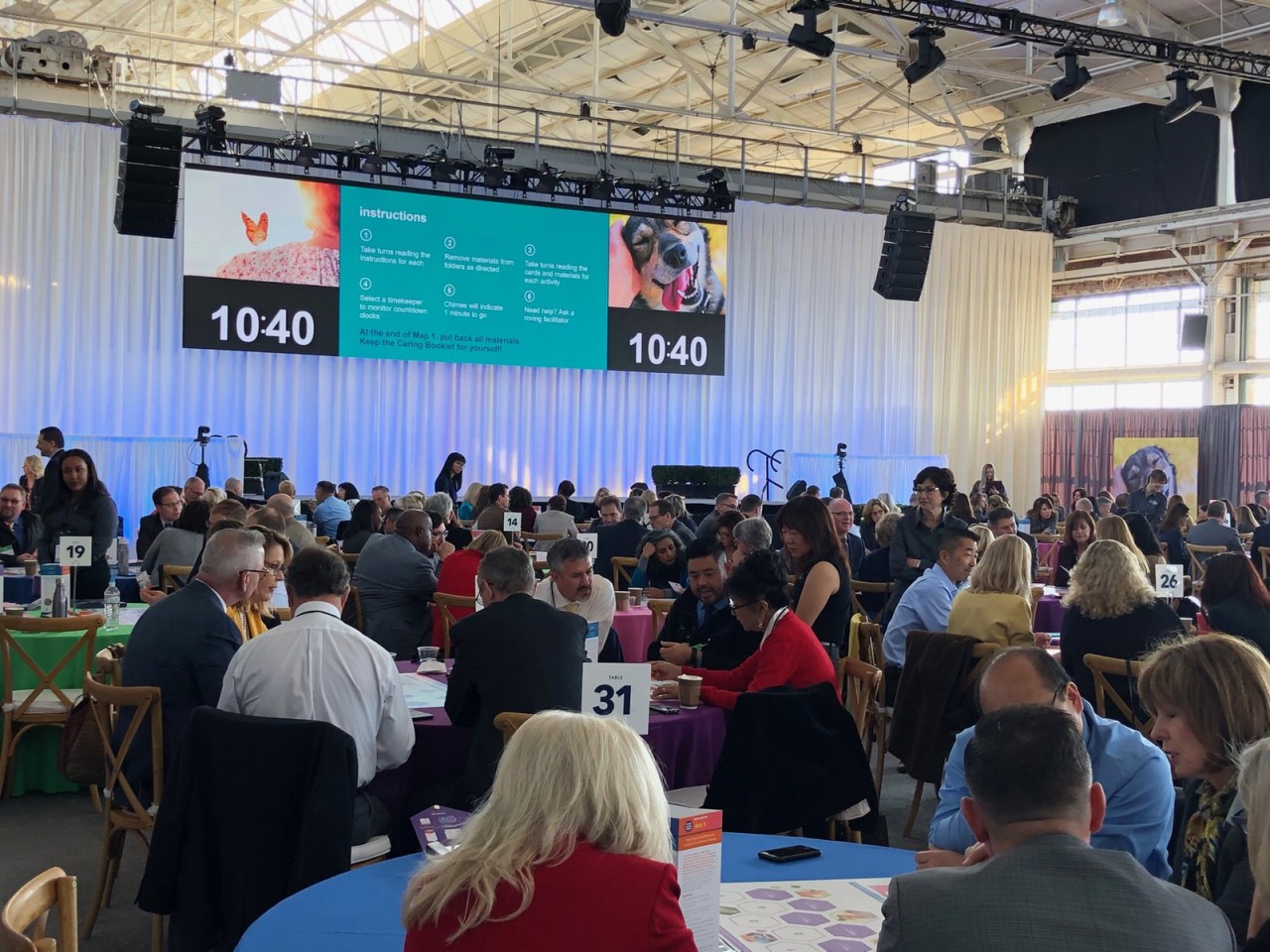 No matter what industry you're in, we all know that a big event is an important way to bring your team together. Whether it's a corporate meeting or a product launch, these events are often filled with presentations and information that your employees need to absorb. But if the audio/visual at your event isn't up to snuff, then you could lose your audience very quickly.
All-hands meetings or company events bring everyone together for a common goal
These events are important because they help create a sense of community. Since many large organizations have employees working in multiple offices, or even remotely, providing an in-person all-hands meeting reconnects those employees with the organization and their co-workers whom they may normally only engage with online or over the phone.
They also help people feel like they are part of something bigger than themselves; they give employees an opportunity to see the value their work has in serving others or advancing a cause bigger than themselves. In addition, after years of virtual events, live events bring levels of engagement and value that can't be replicated online—they create an intimacy that makes all the difference when it comes to meaningful relationships between leaders and team members (and even customers).
Great audio/visual makes your event more impactful
While a good presenter with a great story can likely hold their audience's attention in just about any environment, there's no doubt that audio/visual production can increase the impact of your sessions. Incorporating set design, color, lights, sound, and video draws the audience into the presentation and holds their focus.
The A/V experience is also intended to eliminate distractions. A properly implemented A/V set will focus the audience on the important elements of your program, engaging them with the on-stage action, visuals on the projection screen, lighting and well-chosen audio cues. These cues engage multiple senses simultaneously, drawing every viewer into the program and making distractions fade into the background of the experience.
Whether your audience is comprised of employees or customers, great A/V also sends an unmistakable message that your company is invested in the event and the experience that they're having there. Pulling out all of the stops to engage your audience will have an impact completely different that you'd get with a simple setup of black pipe and drape with a dim projector for the PowerPoint.
Good A/V keeps your message clear
Aside from the glitz and glamour, when you have great audio/visual, people are more likely to understand your content. Getting your message across means that your audience needs to be able to see the stage (and what's on it), clearly see and read the screens, and hear the presenter. Dressing that up with all of the extra production values make the event more fun and engaging, but it's important not to lose sight of those basics.
At VIP Audio/Visual Company, we're good at the basics and the extras! We can bring the highest production values to your event, while still ensuring that every spoken word is crystal clear in every corner of the room.
Having a strong technical foundation also lets you do some really cool stuff at your event. Whether it's live-streaming from a drone that's flying around the room demonstrating collision avoidance techniques, watching a scanning laser building a real-time model of the room, showing data readouts from an autonomous earthmover, or displaying 3D imaging and camera views during a live brain surgery, incorporating an out-of-the-box audio/visual experience provides that "wow" factor that keeps your audience abuzz long after the event concludes.
---
When you're putting on an event, make sure that the audio and visual are top-notch. The right approach will give your message greater impact, keep your audience engaged and help them understand what you are saying. If you need some advice or guidance on how to make this happen, the production team at VIP Audio/Visual Company has years of experience in creating amazing experiences for our clients. We'd love to partner with you to take your next large event to the next level, so reach out today!