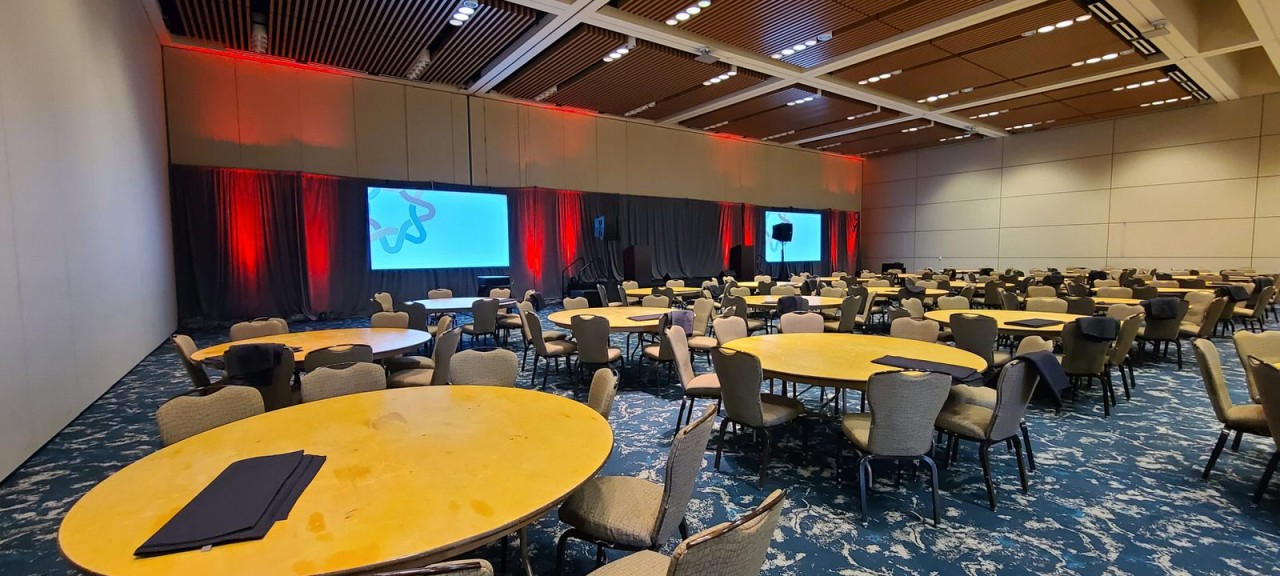 When you're planning an event, you're looking at the big picture. Things like catering, transportation, lodging, the quality of the hotel and meeting spaces, nearby attractions for your guests to enjoy, and hundreds of other details. These are all important aspects of the meeting planning process.
Equally important (from our perspective) are the logistics of the meeting room itself. Considering how the specifics of the venue will impact the capabilities of your Audio/Visual provider will go a long ways towards us being able to provide you with a better experience, and a better event. With that in mind, we've put together some key considerations when choosing your ideal venue.
Location
It's important to consider where your event will be held. Is it a remote location that requires travel arrangements? What are the cost implications of getting crew to and from the venue? Remote venues often have their own unique considerations, such as possible delays due to weather or travel problems.
While getting the Audio/Visual equipment to the venue is rarely a problem, we'll often plan to bring additional backup equipment to extremely remote venues when local support is unlikely to be available. Be sure that your Audio/Visual provider is aware of these challenges and is equipped to meet them.
Size of the venue
When considering the size of the venue, you should be looking at more than just the stated capacity of the room. The larger the room you're in, the more options we have for incorporating staging, set pieces, decorative elements, and other presentation enhancements. We'll also need room for the things you may not have thought of, such as backstage space for projection equipment, empty cases, and "video village", which can take up a lot of space.
Projection distance is determined by the size of the screen and type of lens used; most commonly between 11'6" - 15' away depending on whether it's fixed lenses (focal length between 1:1 & 2:1) vs motorized zoom lenses (focal length between 5:1 & 22:1). Generally speaking larger screens require longer distances between projector/screen due to needing more throw distance than smaller ones do.
Ceiling heights also determine how large a screen we can install. Watch for any obstructions hanging from the ceiling like chandeliers or airwall tracks that would block lights or video projectors.
Front of house, we'll need space for the main stage, camera platforms, the tech riser for our production crew, set elements, backgrounds and more. It's also important to consider safety. As we plan how to use the space, we need to make sure that an adequate number of fire exits remain available and visible to your guests. If curtains or hard-set cover part of an egress route, we'll need to consult the fire code to determine how much space we need to leave accessible.
Noise levels
Noise levels are an important consideration when selecting your venue. When choosing a space, you should consider the ambient noise levels of the venue as well as potential city noises. Some venues are quiet and some are noisy. For example, if you'd like to record your event for later usage, you'll want to make sure that there is no background noise from people talking in the hallways or outside areas. City noises often blend into the background, but things such as aircraft passing overhead or a nearby fire station could disrupt your event; so listen carefully for these sounds in advance of your big day!
Venues with kitchens and dishwashing facilities directly adjacent tend to be noisier; while this may seem like an insignificant detail at first glance, it can actually become very disruptive over time. Nearby construction projects also tend to generate significant noise pollution which can be extremely distracting.
Acoustic considerations
If you're not sure how your room will sound, you may want to consult with our audio engineers before booking. We can help you determine whether the space will work well for your event.
A very live room (i.e., one with lots of glass or tile surfaces) is harder to control than a more absorbent environment like carpeted walls or curtains. This means that some level of echo may be unavoidable in these spaces; however, our engineers can assist you in mitigating this issue through their audio setup choices. The good news is that our team has extensive experience in making almost any space work!
The all-important load in
When you're selecting your venue, consider how we'll get the audio/visual equipment to the meeting rooms. Access to the loading dock should be coordinated in advance. Any doors between the dock and the meeting room should be left unlocked and accessible to our team. For very secure venues (typically those in cities), having a member of the venue's security staff on standby to act as a liaison for our crew can be a big help.
Freight elevators are a common roadblock during the load in. Elevators are often busy, particularly in the morning hours as housekeeping staff, caterers, and maintenance personnel arrive for work. This can create significant delays as we try to move our roadcases to the meeting rooms. Isolating a single elevator on a "lockout" basis for our use can often streamline the process.
Another frequent concern with elevators is their size. Small elevators may not be able to accomodate some of our larger equipment, such as long pieces of truss or light stands. If the elevator is too small we'll need to identify an alternate means of accessing the meeting rooms.
A quick and smooth load in sets the stage for a stress-free setup!
Should you use in-house, or an outside audio-visual company?
When it comes to choosing an Audio/Visual company for your event, you have two options: in-house or outside.
In house venues often have a staff member who can handle the A/V needs of events on their own. However since most in-house providers are used to working smaller events, a large meeting with complex technical requirements can be outside of their capabilities.
An outside company can bring a fresh set of eyes and provide a higher level of service than one might expect from someone who works in the venue day-in and day-out, and has grown accustomed to doing it "the way we always do." Outside A/V companies may also have connections or resources to be able to bring in specialists to fill technical roles within your event, such as a highly experienced producer or audio engineer.
---
The selection of a venue can be one of the most important decisions when planning an event. It may be tempting to choose a meeting venue based solely on price or convenience, but it's imperative you consider all aspects of the space before making your decision. Taking these factors into consideration will ensure that you and your attendees have a positive experience at your next event!
If you have any questions about your venue selection, we're happy to consult with you and provide our feedback. Simply reach out to a member of our production team so that we can help!