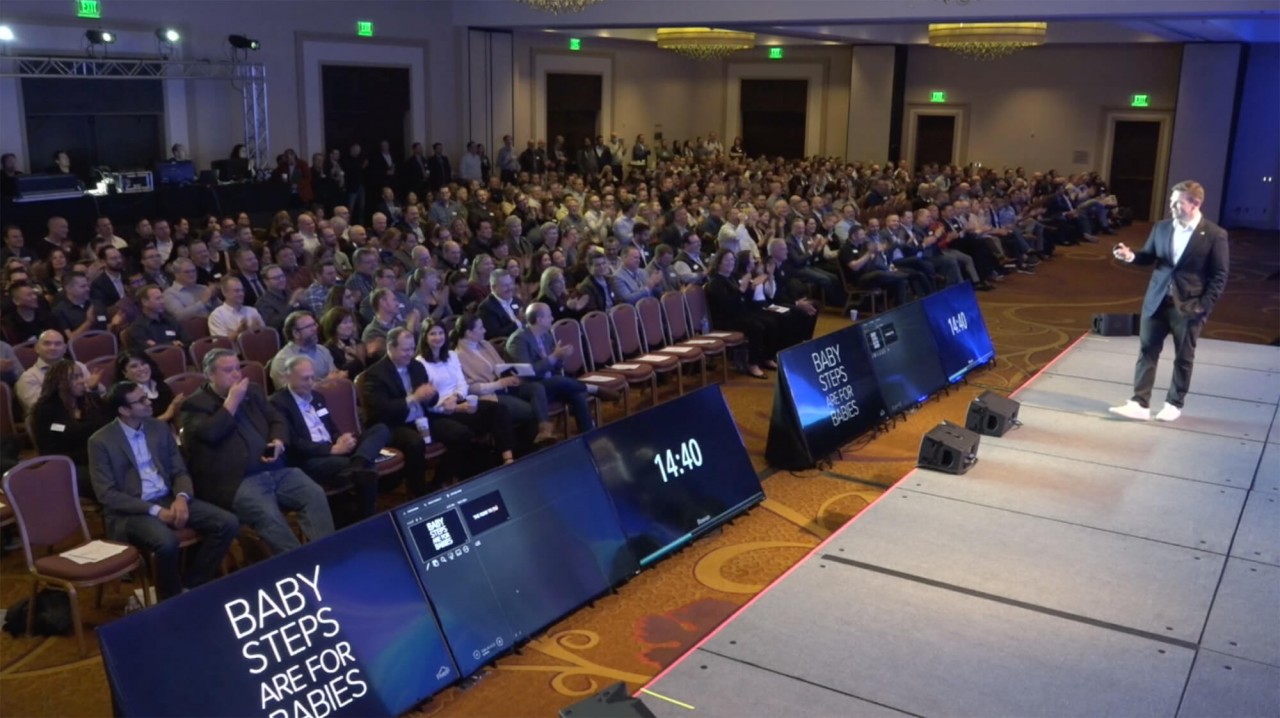 As the world begins to settle into our "new normal", it's becoming obvious that events have changed for the foreseeable future, and perhaps forever. While nothing can replicate the energy and excitement that comes from in-person live events, people have also become accustomed to the convenience of presenting and attending events online.
Hybrid events combine the best of the live and virtual worlds. Attendees who are unable to attend the live event expect to be able to participate online, and remote presenters deliver their talks via video stream from anywhere in the world.
At VIP Audio Visual, we're embracing this new normal by making hybrid events as seamless as possible for our clients. We can fully integrate virtual elements into your live events, combining the best technology to produce a compelling experience for both in-person and virtual attendees.
Remote Presentations
Our team at VIP Audio Visual can integrate remote presenters into the live production environment, using multiple screens and picture-in-picture effects to create an engaging experience for your in-person audience, while simultaneously providing a branded television-style look for your remote viewers on the livestream.
We've all sat in meetings where the presenter has struggled to share the correct presentation window, only to end up sharing a presenter view or their desktop. We use innovative techniques that allow your presenters to run their own slides from their local computer, while your audience sees a failsafe view of the slides from our production computers that eliminates those mistakes.
Our producers work with each remote presenter prior to their session to optimize camera placement, lighting, and audio for the best and most professional audience experience possible.
Live Event Streaming
Web streaming of your live events has been an option for years, but now it's an expectation. VIP Audio Visual produces television quality live streams that allow your remote audience to feel as though they're in the room with you. Our video team utilizes broadcast cameras and premium switching hardware to create multi-camera mixes on the fly, integrating presenter PowerPoint, audience cutaways, and event branding to create an amazing virtual experience.
We can stream your event to a wide range of platforms such as Vimeo Livestream, YouTube, Facebook Live, Zoom, WebEx, or Teams. We can also send a feed to internal corporate streaming platforms for highly secure productions.
Multi-Location Events
If your company has several locations but doesn't want everyone to have to travel to a single venue, a multi-location event may be the solution for you. VIP Audio Visual can put production teams at each of your locations. With a good internet connection, we can send 2-way video and audio from each meeting back to a single production hub, where we combine the location feeds into our event stream.
This is a highly technical production which allows presenters at any of your venues to present live from the stage to their local audience, while audiences at other venues watch the presentation on-screen. Q&A and other interactive segments can take place as though everyone was in the same room. A multi-location event allows national and international companies to hold live all-hands events, customer showcases, partner summits, training, and other functions with a minimum of travel, keeping people safe while still letting them experience the energy of a live event.
---
Event production technology has always moved at a rapid pace, but the pandemic has shifted audience expectations like never before. Whether it's live in-person events, or our hybrid options, VIP Audio Visual Company has your next event covered. We're excited to partner with our clients on new and innovative solutions that allow them to engage their employees, partners, and customers in ways they never imagined before.