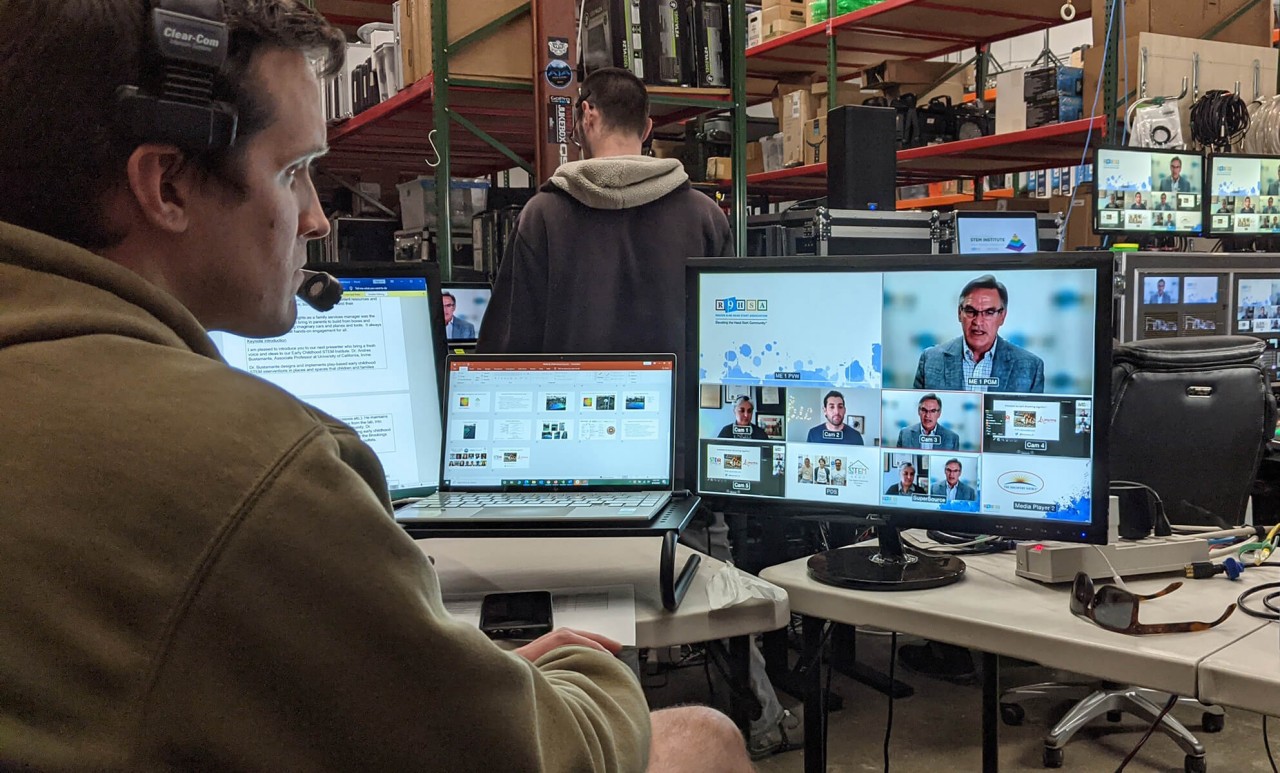 After more than a year of non-stop online meetings, Zoom fatigue has fully set in. The thought of yet another endless session of talking heads is enough to make us wish we were on a beach somewhere instead of sitting in front of the computer.
While we can't help with your travel arrangements, VIP Audio Visual does have some solutions for making your next online event more exciting, professional, and engaging.
Working with VIP Audio Visual was a fantastic experience. Manny was responsive, easy to work with, and he truly cared about our needs and finding an ideal solution for our business. The crew was professional and friendly, and the process went smoothly. The crew and Manny went above and beyond to ensure we were satisfied. I can't recommend VIP Audio Visual highly enough! — Jeff Gilbert, CEO, Verve IT
Production Value
The static screen share and webcam view gets really old, really quick. Our production team utilizes video switchers and streaming equipment to create a broadcast quality program, switching between presenters, slides, and picture-in-picture views to create engaging sessions that don't get boring.
Our producers also work extensively with your presenters to achieve the best possible quality, working with available conditions at their location to optimize lighting, camera position, and sound. We rehearse each session beforehand to ensure that each presenter understands the flow of the event and knows when it's their turn to speak.
Our tools also allow us to provide full branding of your stream, with image backgrounds, animated lower-third titles, and logos.
Technical Management
How many times have you seen a presenter struggle to share their screen, only to end up sharing their presenter view instead of their slideshow? We manage these aspects of your event as well, providing innovative solutions for presenters to have full control over their slides, while providing foolproof solutions to ensure that your audience only sees what they're supposed to.
Conference and Meeting Platforms
Some events take place directly on virtual meeting platforms such as Zoom, Teams, or WebEx. Others are streamed live to YouTube, Facebook, or even internal corporate networks. Virtual conferences may integrate an events platform that allow plenary sessions, breakout meetings, expo halls, and more.
Regardless of your chosen platform, VIP Audio Visual can bring our advanced production tools and know-how to your environment. If you're not sure which platform is best for you, we can help you evaluate your options and choose the right one!
---
Whether you're putting on a 2-hour livestream or a multi-day conference, you want your event to be professional and engaging. Having an event with high production values presents your business or organization in the best possible light and makes it clear to your audience that you've invested in making the event as good as it can possibly be.
If you have an upcoming virtual event, we'd love to discuss it with you and explore how we can make your event the best yet!