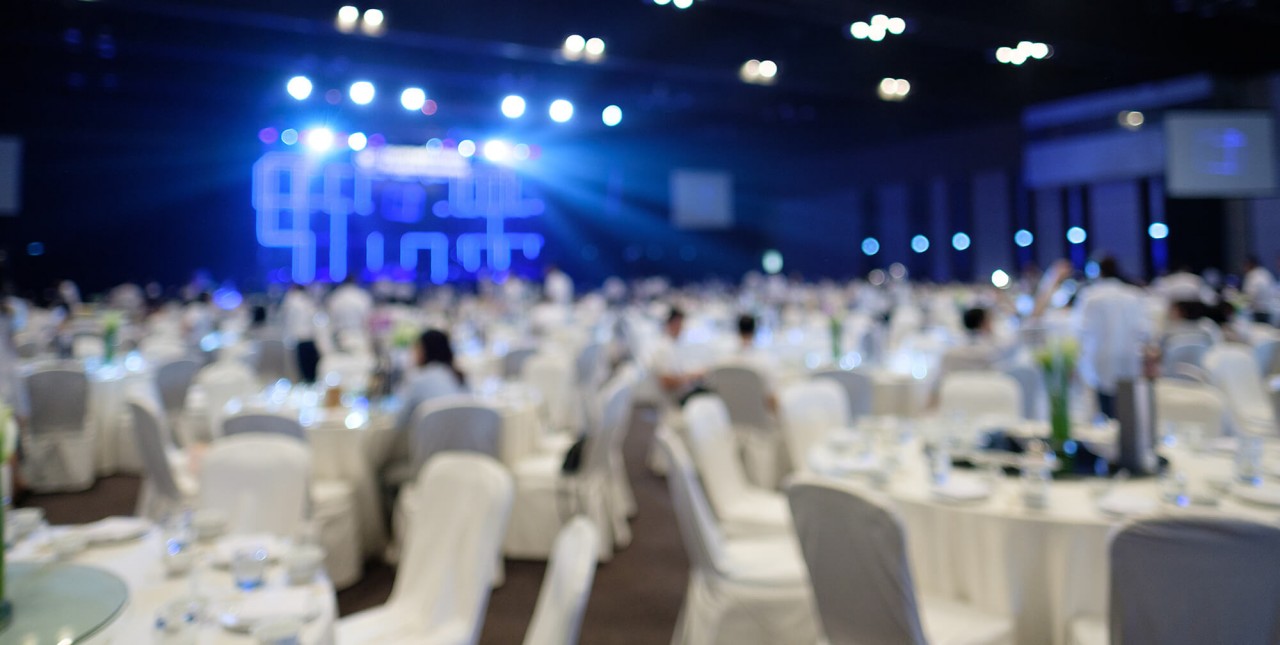 Whether it's a Rembrandt masterpiece, an Ansel Adams landscape, or the venue for your next meeting, there's no scene that isn't made better with proper use of light.
Good lighting is the simplest and cheapest way to transform a room. Whether you're working in a 5-star hotel, the production floor of a winery, or a warehouse, carefully planned and executed decorative and accent lighting can add color, depth and dimension – adding a touch of class to any event.
Pick your style
The lighting design should match the goals and feel of your event. For many corporate presentations, you'll want a well-lit room that uses lighting to add color. For dinners, awards shows, fashion shows, or other gala events, you'll want darker, more dramatic lighting.
Simple lighting options
Even the most basic corporate event can be dressed up a little bit by adding lighting to your stage set and the room. Different than the lighting used to make your stage visible to the audience, decorative lighting is purely for artistic purposes.
Presenters standing on a stage with no light on the elements behind them tend to blend in with the background, as the overall scene appears "flat" to the audience. Adding colored lighting to a line of stage drape or set pieces behind the stage helps create a perspective of depth behind your presenters. Lights can sit on or behind the stage, or can project from above when mounted on truss.
Offstage, placing LED uplights around the room is a great way to dress up those boring walls, or highlight event signage. Battery-powered, remote controlled lighting fixtures make it easy for us to place lights exactly where you want without having to run power and control cables.
Advanced lighting
If you need a little more drama, it's time to turn off the house lights and go all-in on a theatrical lighting setup. Most high-end lighting designs will be flown from the ceiling on rigging truss. The stage lighting, ambient lighting and effects can all be mounted on this rigging and controlled by our crew.
Use light to focus attention on the parts of the room that you want your audience looking at. Light, color, and shadow all have their place in the design. Set pieces, truss, scrim, and other elements work as surfaces to reflect the light. If your room is set in rounds, pin lights can be placed over each table to provide a dramatic splash of light that highlights a centerpiece, or just gives your guests at that table light for reading or note taking. LED fixtures can wash the entire room in color, which can be brightened, dimmed, or change color on demand.
Intelligent lighting fixtures give our Lighting Designer (LD) a broad range of creative control as they can dim, pan, tilt, zoom, and rotate in any color. Adding gobos which block a portion of the light pattern throws beautifully textured moving or static patterns onto ceiling, walls, floor, or stage elements.
Motion effects can be subtle or exciting. An intelligent lighting fixture with a slowly rotating gobo projected on the ceiling provides an elegant ambience for a formal dinner. That same lighting fixture can also spin wildly about the room, combining with strobes and uplights to create a "ballyhoo" as award winners are announced or the next motivational speaker is introduced.
For the greatest impact, we add a hazer to the lighting rig. Nearly invisible to the naked eye, haze consists of atomized water or oil that hangs in the air. When the light passes through this vapor the "beams" of light become visible, extending the light design into three dimensions throughout your space.
---
Basic functional stage lighting illuminates the stage and provides light for cameras and your audience to see what's going on, but there is so much more that can be done. Taking a decorative and artistic approach to lighting may be exactly what you need to break out of a rut and take your event to the next level.