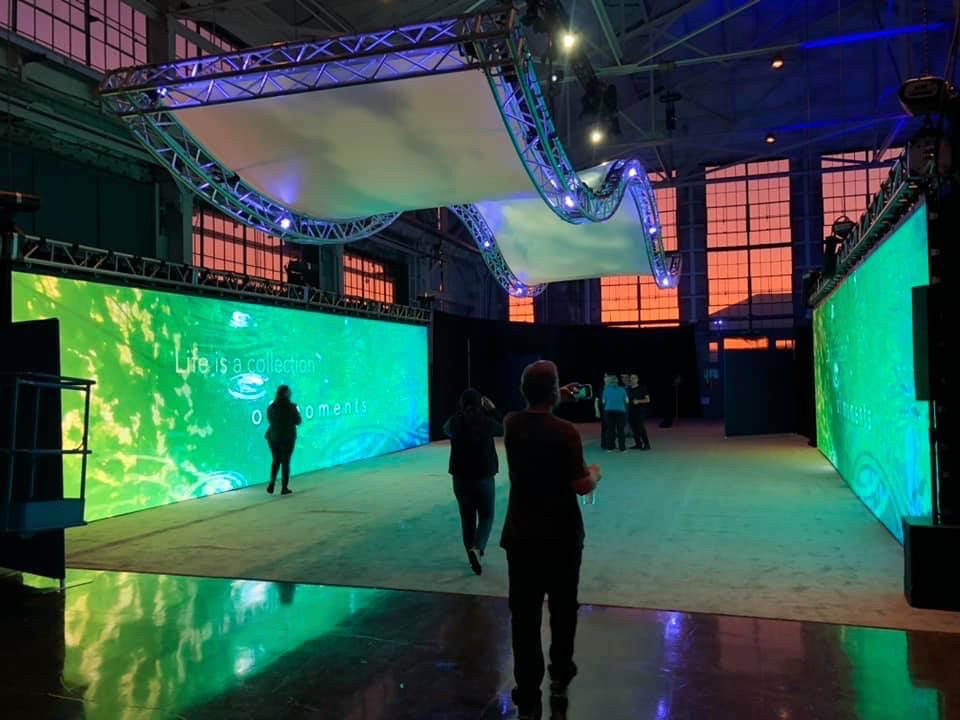 Corporate events tend to follow the same general mold. Two projection screens in a dark room with black or gray pipe and drape behind them. LED uplights coloring the drape, maybe a couple of banners here and there, and you've got yourself an event.
Most of the time this is by design. Video projection is extremely sensitive to light, so event setups are laid out to keep lighting separate from the screens. The dark room keeps the focus on the stage while also minimizing the amount of light that could wash out the screens.
Projection screens are also locked into a specific shape. Unless you have a custom screen manufactured for your event, your screen will be in the standard high-definition aspect ratio of 16:9. We can flip them vertical, but other than that there aren't a lot of creative options readily available.
LED screens - also commonly known as video walls - change the game completely. They're completely immune to ambient light, working in any conditions from fully dark to broad daylight. Because large LED walls are made up of smaller individual screens connected together like LEGO bricks, we can easily create custom shapes and sizes.
Here are a few ideas that just might help you take your next corporate event to the next level by integrating LED screens:
Choose a new venue: You're not stuck in that hotel ballroom anymore! Want to move to that room with floor to ceiling windows, or the waterfront warehouse with amazing views? With LED screens you can leave those windows wide open to enjoy the sunshine, while still experiencing outstanding video quality.
Use video for your stage set: Drape is boring and banners are static. Using an LED display as the backdrop for your stage introduces a live canvas that can be changed at will. Presenters can stand right in front of their content and interact with it naturally on stage. Or, embed speaker titles, event branding, sponsor logos, and other creative elements right on the stage.
Change up the shapes: Video isn't stuck at 16:9 anymore. Create a dramatic impact with super-wide displays that span an entire wall. Utilize multiple smaller displays spread across your stage. Design irregularly shaped screens with stairstep patterns or holes in them for set elements. Position vertical columns throughout your venue with event branding or sponsor messaging on them.
Create a focal point: Hosting a reception or exhibit hall? Create a 2-sided screen (or 3-sided triangle!) that runs floor to ceiling in the center of the room. Or, make a grand entrance with a hallway created with video panels.
Create a killer VR experience: As video streaming becomes the norm, we're producing more and more events that include remote presenters. Put a "teleport" on stage, where remote presenters appear life-size and can interact face-to-face with your on-stage talent.
Go outside: While you may not want your corporate audience exposed to the elements all day, LED displays are a great option for concerts, festivals and other outdoor events. We can build them from the ground up, or "fly" them from rigging truss and other outdoor structures.
---
If you can't tell, at VIP Audio Visual Company we're pretty big fans of the LED display technology. It introduces an incredible new variety of options into the events world - from solving problems with bright environments, to creative uses that were either impossible or cost-prohibitive with traditional projection technology. Give us a call and together we can take your next event from traditional to cutting edge!