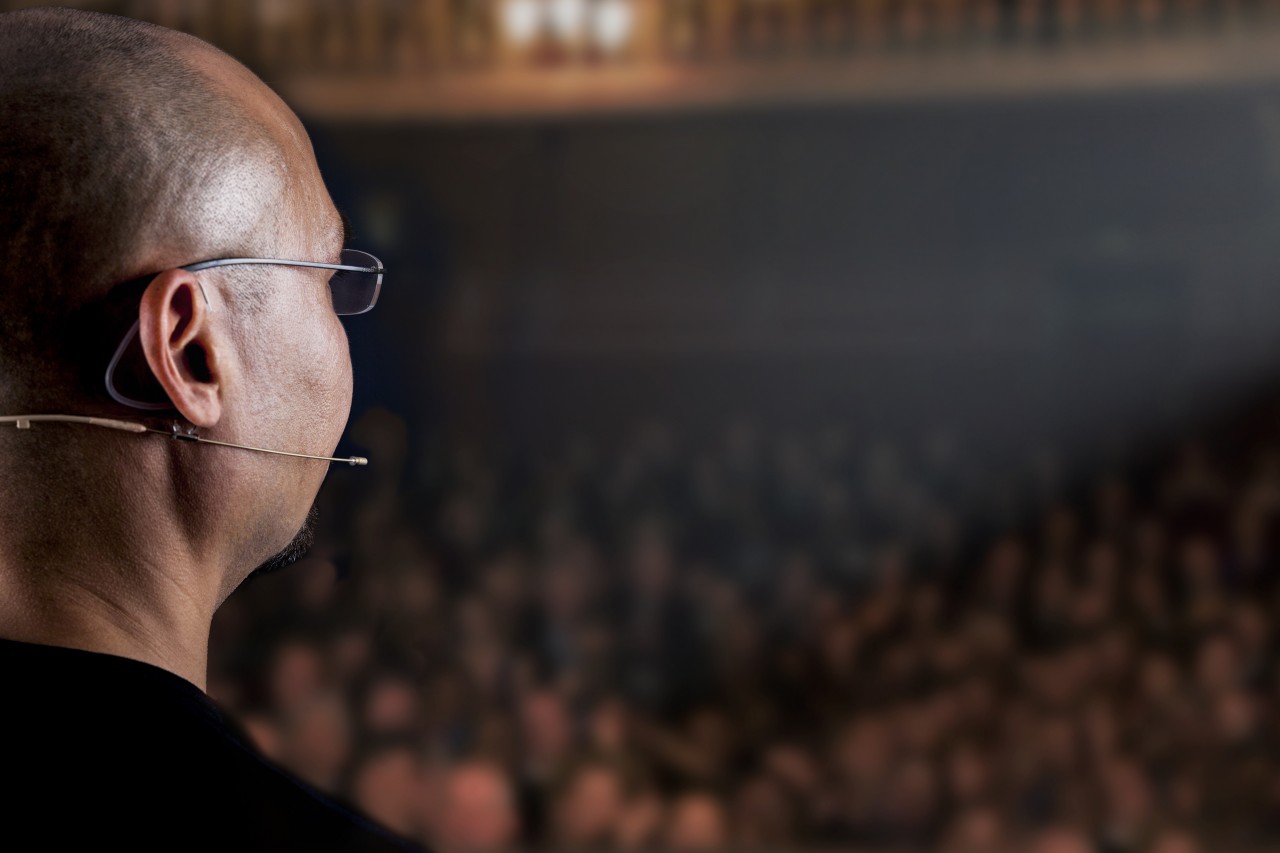 Ever been at an event where you feel like the presenter is standing an arm's length away, speaking directly to you? Even with a couple thousand people in the room, a properly dialed audio rig creates a presence that can make any venue seem intimate and inviting.
Good sound requires quality equipment in every part of the system - speakers, mixers, processing - plus operators who know how to put it all together. But to get really great sound, you need to start at the source: the microphone.
Most wireless microphone systems consist of three elements. The microphone element is usually clipped to the presenter's clothing or headworn. The mic element connects to a beltpack, which transmits the signal wirelessly to the microphone receiver, which is then connected to the sound board.
High-end wireless systems cost thousands of dollars and incorporate advanced features like digital transmission technology, wireless trunking, frequency agility, and more, all of which provide clear, interference-free sound. But the microphone elements that come with the wireless systems leave a lot to be desired. While they're utilitarian and reliable, the large mic elements are unsightly and don't provide the best sound quality.
Good audio visual companies will usually invest in good wireless technology, but then stick with the included microphone elements. This results in adequate, reliable sound, but is often lacking clarity and prone to feedback.
At VIP Audio Visual, we've invested in providing some of the world's best microphones for our client's events. Our customers now have access to a full line of DPA Microphones. You'll find DPA microphones in the most critical audio applications — from recording liftoffs of Apollo spacecraft, to capturing every nuance of Broadway performances. Engineered and hand assembled in Denmark, DPA's presentation mics bring a level of quality to spoken word at our events that can't be obtained with typical A/V gear.
We offer several microphone options for our customers.
Headworn mics are the best choice in most applications. Unlike the visually obnoxious "Britney Spears" mics that presenters don't like wearing, our DPA headworn mics are extremely small. This makes them difficult to spot from the audience, and they even blend in on all but the tightest camera shots. By positioning the microphone near the mouth, we capture every detail of the spoken word while eliminating most room sounds and background noise. The proximity to the sound source also allows us to achieve very high gain before feedback, virtually eliminating the risk of feedback in even the most challenging acoustic environments.
DPA headworn mics are extremely lightweight. Ear and clothing clips secure the microphones, creating a comfortable, wobble-free wearing experience for your presenters. Many presenters tell us that they forgot the microphone was even there after wearing it for a few minutes.
Lavalier mics are the traditional choice in corporate applications. While the mics are further from the sound source than headworn, the DPA lav mics still provide outstanding sound. The extremely small mic elements also come with special mounting hardware that allows our audio team to completely hide them under clothing.
While less common in the corporate world, we can also provide "stick" mics for handheld use or recording. These large diaphragm condenser mics offer the most accurate sound reproduction possible, with open, airy sound that you have to hear to believe.
---
If it sounds like we're "geeking out" over microphone technology, it's because we are. Details like this are what set us apart at VIP Audio Visual. Instead of being satisfied with the industry standard, we've taken the next step to secure the world's best microphones for our clients. Originally designed for recording symphony orchestras and Hollywood sound stages, we've now brought this same level of quality to the stage of your corporate event.
With DPA microphones anchoring the signal chain, we believe that the sound quality we're now providing for our client's events is virtually unmatched in the audio visual industry, giving us the ability to make any venue sound like Carnegie Hall!