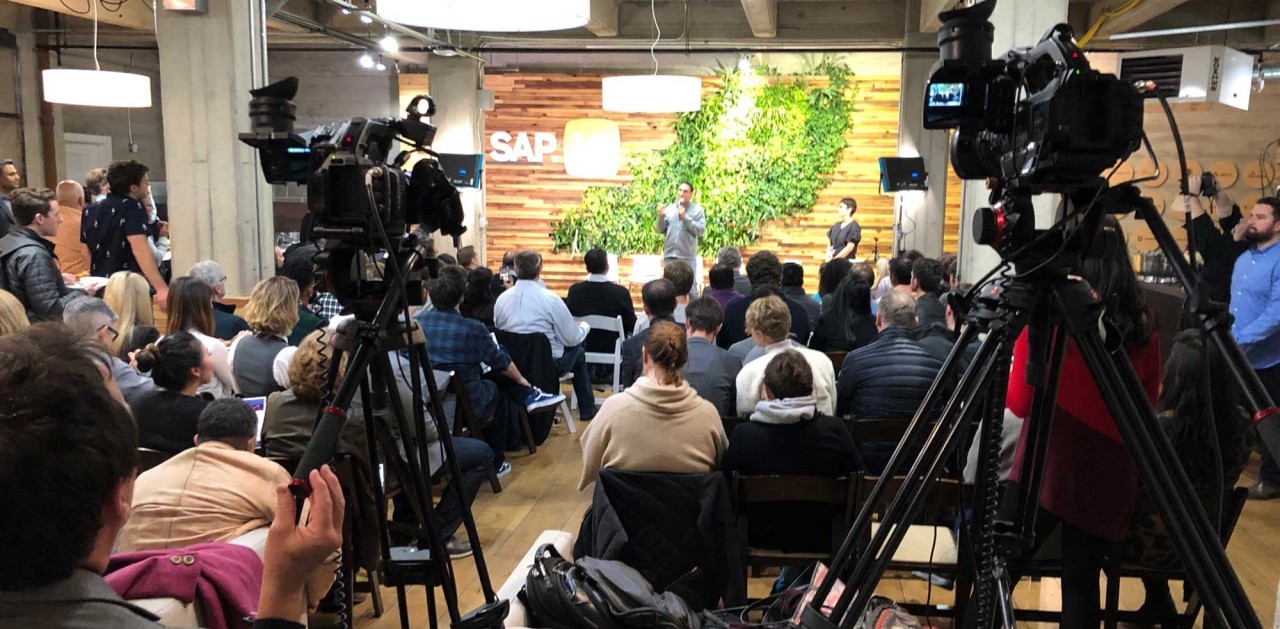 We live in a fast-paced and interconnected world, and event organizers are continually seeking innovative ways to create more engaging and inclusive experiences. VIP Audio Visual Company has been at the forefront of this transformation, offering cutting-edge solutions to seamlessly integrate virtual audiences and presenters into live corporate events. By adding live streaming and audience engagement features, companies can open their events to a global audience that would otherwise be unable to attend.
Engaging With Chat
One effective way to enhance the experience for remote attendees is to establish a live chat feature. This can be as simple as setting up a dedicated Teams or Slack channel for the event or integrated directly into a virtual meeting platform. By offering real-time communication, remote participants can actively engage with in-person attendees, fostering a more collaborative and interactive atmosphere.
To further bridge the gap between in-person and virtual attendees, it is crucial to designate a point person in the room to relay questions from the remote audience. This individual should be responsible for monitoring the live chat, selecting relevant questions, and presenting them to the speaker or panel for discussion. This approach ensures that remote attendees feel heard and involved in the conversation.
Next-Level Interaction: Audio
A more advanced option to enhance remote audience engagement is to allow them to record audio clips that can be played during the live event. VIP Audio Visual Company's production team can expertly integrate these clips, giving virtual participants the opportunity to have their voices heard by both in-person and remote audiences. This interactive feature creates a more dynamic and inclusive event experience.
Engagement from the Stage
Presenters can also play a crucial role in fostering engagement with virtual attendees. By actively involving remote participants through targeted questions and encouraging chat-based responses, presenters can make them feel valued and included. VIP Audio Visual Company can display the live chat on downstage monitors, main projection screens, or even set up dedicated screens to fully integrate the chat into the live event. This approach ensures that both in-person and remote audiences are part of a unified experience.
Incorporating virtual interaction in live events not only enhances audience engagement but also provides a cost-effective solution to expand a company's reach and drive additional ROI. By embracing these innovative approaches, organizations can connect with a broader audience, tap into new markets, and foster global collaboration.
---
VIP Audio Visual Company has years of experience in live, virtual, and hybrid events, having mastered these techniques even before the COVID-19 pandemic reshaped the event landscape. With a proven track record of creating custom solutions tailored to each client's unique requirements, VIP Audio Visual is the ideal partner to help your organization achieve its event objectives.
Embracing virtual audience integration in live corporate events has numerous benefits, including increased engagement, global connectivity, and cost-effective expansion of reach. VIP Audio Visual Company's expertise in live, virtual, and hybrid events ensures that your organization can create the perfect solution for your specific application. By partnering with VIP Audio Visual, you can transform your live events into truly inclusive and dynamic experiences, fostering meaningful connections between in-person and remote attendees.