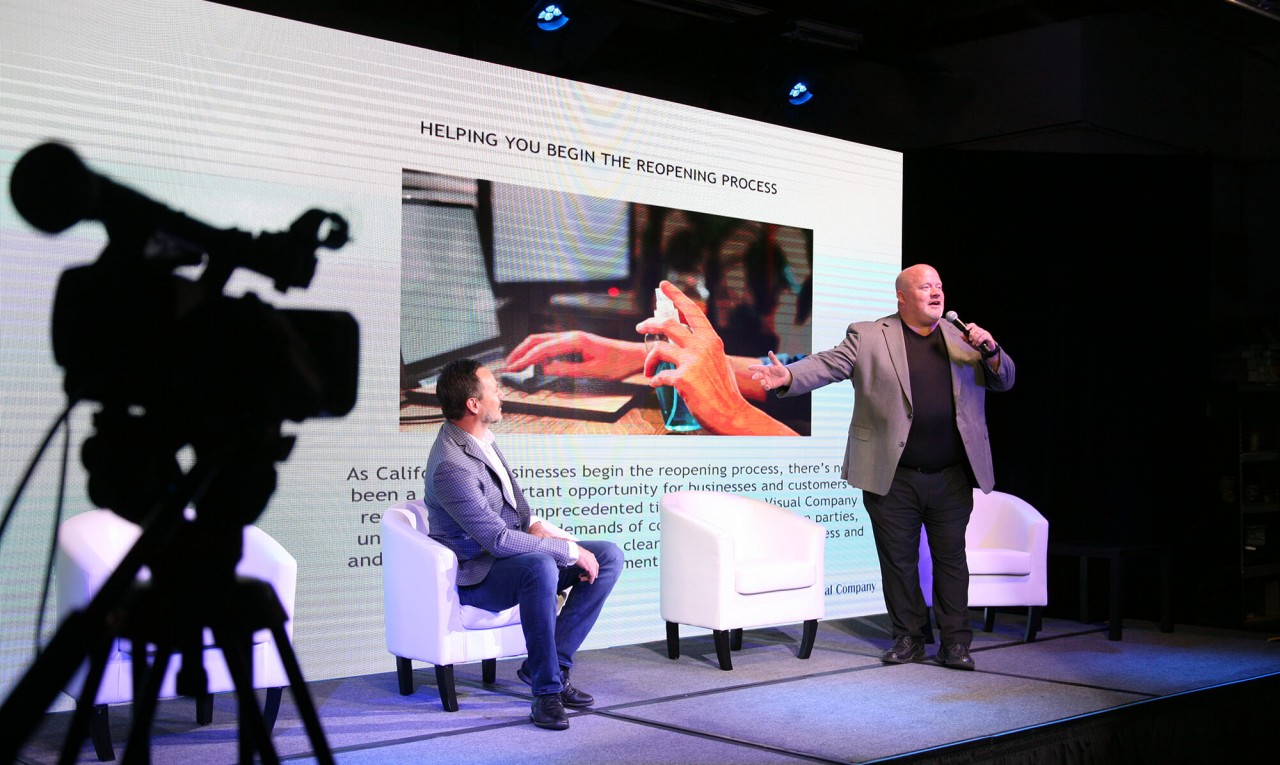 The COVID-19 crisis has brought the business world to a screeching halt. Fortunately, some of those businesses are now getting back to work, but the world has changed. For the time being, large gatherings of employees or customers are going to be a challenge – requiring business leaders to find new and innovative ways to communicate with their audiences.
At VIP Audio Visual Company, we are doing everything we can to help our customers continue to create compelling experiences by providing a full video production studio at our Pleasanton headquarters. Whether you need to create a live or pre-recorded video experience, our extensive experience with live events and production technology allows us to support virtually any scenario.
Studio Features
Our large production studio includes 4 cameras for maximum flexibility. The large stage allows up to 8 presenters at one time, while still observing social distancing protocols. (Additional presenters can stage in the green room and enter the studio when necessary.)
The studio's full-length LED video wall allows us to create custom, branded backgrounds for your video set at the touch of a button. Presenters can also use the screen to display and interact with PowerPoint, videos, and other content.
If your production is scripted, camera mounted teleprompters allow on-stage talent to confidently deliver the script while looking directly at their audience through the camera lens. For nonscripted productions with the "live" feel, the 4 camera setup means we can seamlessly follow the on-stage action in real-time.
Streaming and Recording
We can stream to virtually any platform live from the studio. On-stage presenters can engage in two-way interaction with your audience via large monitors mounted in the studio. Written questions and remote guests can also appear on the video wall for a nearly seamless experience.
For pre-recorded videos, our post-production team can provide full editing, titling, and other production services.
Health and Safety
Regardless of how urgently you need to communicate, safety is paramount. Our entire studio is designed with safety and social distancing in mind. The large stage is divided into 6 ft sections, making it easy to determine how far you need to be from the next person. Our crew workstations are also spread out throughout the studio to keep our employees safe.
All touch services are sanitized regularly using UV wands. Any handheld equipment, such as microphones or remote controls are sanitized using our high-efficiency UV sterilization cabinets. And the entire studio is sterilized before and after each production using hospital-grade fogging equipment.
All of these precautions ensure that your company will be able to communicate effectively while still protecting your most important assets: your people.
---
It's safe to say that none of us envisioned at the beginning of 2020 that our business world would have changed so drastically. Businesses have faced unprecedented challenges this year in nearly every aspect of their operations, and live events and corporate communications are no exception.
Our entire team here at VIP Audio Visual Company is dedicated to continuing to support our clients through whatever may come. Making this video production studio available is a first step towards helping your business survive and thrive until we can all get back together for live events once again.