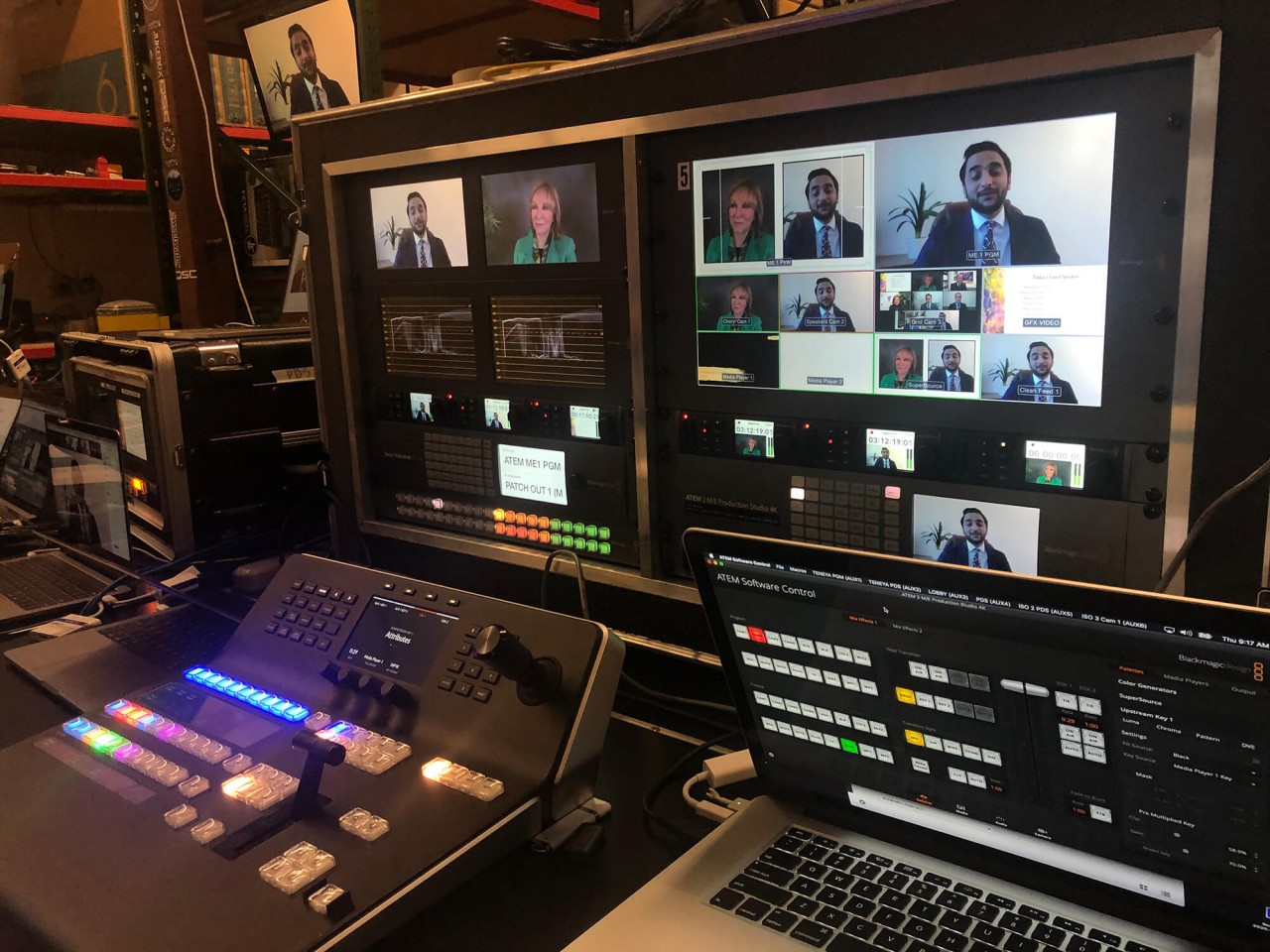 By now we've all grown accustomed to having a grid of heads filling our computer screens. Business meetings have gone from "who's bringing the donuts" to "hey, you're muted!"
Now that the initial shock of working remotely is wearing off, more and more businesses are looking for ways to make their virtual events more professional. In a world where everyone from the Fortune 500 to your local elementary school is meeting online, creating an event that stands out in terms of professionalism and engagement is becoming more of a priority.
VIP Audio Visual helps our customers create truly professional virtual events that move you from casual business meetings to broadcast quality.
Technical Excellence
For the first few months, everyone has excused bad lighting, muted microphones, and people who couldn't figure out how to share their screen, but those mistakes have no place in a professional virtual event. Our online events team utilizes "green rooms" that allow us to coach presenters through these problems prior to their segment. Once everything is ready to go, presenters are moved to a holding room where they can watch the event live while they wait.
Utilizing our advanced routing and switching equipment, our team isolates individual sources like presenter cameras and screen shares, then combines them in various layouts to create truly engaging meeting views. For interaction between a host and guest, we may show them side-by-side on the screen, with graphics and titles. For a solo speaker with a presentation, we can switch between various views of the camera, content, and graphics to produce a more engaging event that stays fresh. Online Q&A or polling can be integrated as well.
Event Branding
In the old world of live events, organizers invested a lot of time and attention in branding their event with signage, set decorations, printed materials, and more. Some of that same impact can be carried over to your virtual event through on-screen graphics. The VIP Audio Visual team integrates lower-third titles, background graphics, pre- and post-event rolls, and break slides which can all carry your event branding. Best of all, there are no printing costs!
Virtual Exhibit Halls
Your vendors and sponsors have their place in a virtual event as well. Physical exhibit halls can be replaced with virtual sessions that allow your attendees to interact with vendors in a smaller, more personalized environment. Guests may rotate through the exhibitors by means of a pre-scheduled rotation, or they can browse the "booths" at will by moving between the virtual rooms.
---
Live events carry distinct advantages that are hard to replicate in a virtual environment, but a well-produced virtual event has its own benefits. The production team at VIP Audio Visual has the tools, expertise, and experience to help you create a truly professional online conference or meeting for your business or non-profit. Our goal is to leave your guests with a positive impression that changes the experience from "just another meeting" to "that was amazing!"