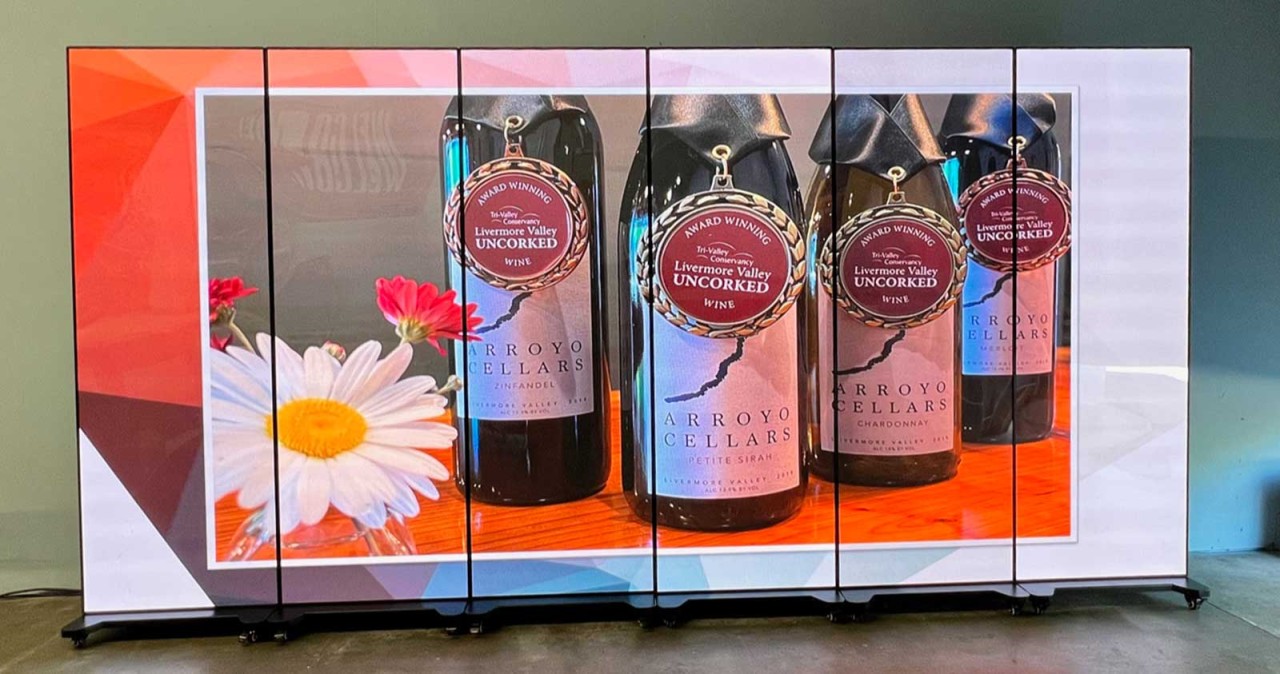 LED displays seem to be everywhere these days, from your TV at home to the big screens in Times Square and the Las Vegas Strip. And it's no surprise - LEDs are energy efficient, lightweight, and durable. The widespread adoption has led to some creative uses of the technology.
At VIP Audio Visual Company, we're proud to offer another innovative use for LED displays: Our new LED Posters.
What are LED Posters?
Sized to the same dimensions as a traditional roll-up poster, our LED posters are a great solution for a broad range of applications. Mounted on a rolling base and powered from a single electrical outlet, you can conveniently position them anywhere in your venue. The posters can show a single image or series of images from a memory device, making them a great option for event signage, schedule information, sponsor recognition, exhibit booths, and much more.
Since the displays emit their own light (just like your TV), they're visible in any lighting condition from full outdoor sunlight to the darkest corners of your venue. The brightness of the display is easily adjusted to match the ambiance of a formal reception, a bright exhibit hall, or an outdoor event at high noon.
Beyond the Basics
While the LED posters are perfect for standalone, unattended operation, they're incredibly versatile when you add a little technology. The built-in wifi cards allow the posters to be connected to a network and controlled remotely. Our control system has scheduling software that can update content throughout your event, keeping specific and current information on each display at all times. If your schedule changes, we can push new information to the displays as needed.
Multiple posters can also be combined to create a single display. Put 5 posters side by side to create a 16:9 screen, or extend it out further for an ultrawide image that creates an amazing impact. Add space between posters to build a canvas for unique visual presentations that will put the "wow" factor in your event. Your images aren't limited to stills, either. Since the posters have a video input, you can show live video from your event or animated graphics or other content.
For the ultimate in creativity, we can use the posters as part of your stage set. Keep the posters on their rolling stands for a quick and easy stage display, or we can remove the stands and attach them to truss or other hardset. Our production team can then push content into the displays to coordinate with your presentation and overall stage look.
---
As you can see, the potential applications for LED Posters are endless. Whether you're hosting a high-end corporate event or a social gathering, LED posters from VIP Audio Visual company are a cost-effective and innovative way to create a lasting impression that will impress your audience and leave them talking!
If you're interested in learning more about using LED posters at your next event, reach out to the team at VIP Audio Visual Company!