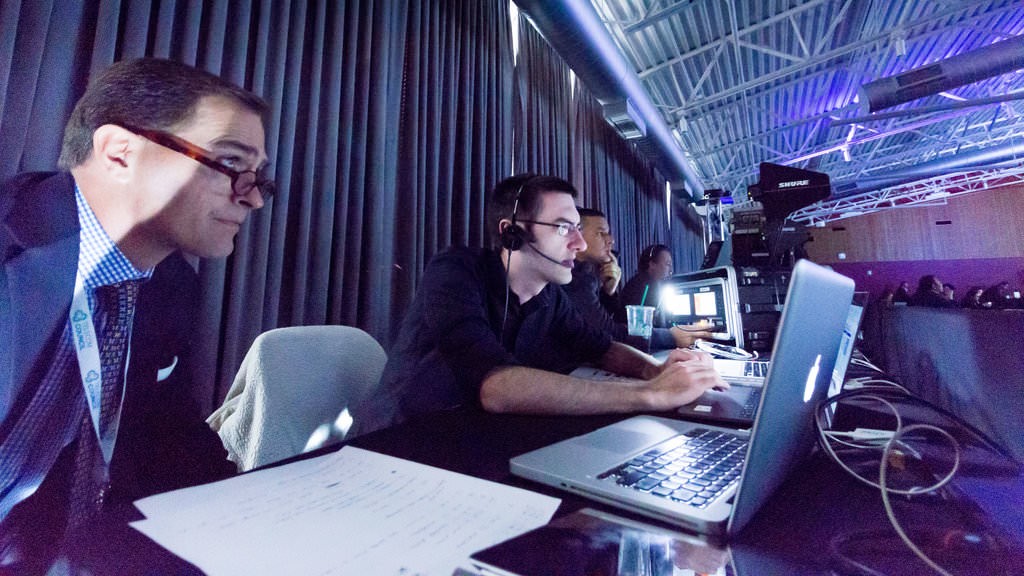 When your entire organization is focused on promoting new tech, it takes a lot to wow your audience. That's the situation that The Telecom Council of Silicon Valley found themselves in while planning their 2017 TC3 Summit, where telecom operators from around the world come to find out what's new in the industry.
The Council turned to VIP Audio Visual to plan and manage the AV for their event. Held at the Computer History Museum in Mountain View, California, the TC3 event required a setup that was cutting edge, unique, and a little out of the box. With over 500 attendees from telecom operators, vendors, and other industry insiders, we needed to create something that captured the attention and had that high-tech feel without being distracting.
Our solution was to incorporate not just one or two, but seven screens into our set. Large projection screens were rotated vertically to showcase agenda items. PowerPoint presentations were shown on another screen directly over the stage, as well as being integrated into the side screens. Four LCD monitors were mounted vertically on the stage to showcase sponsor logos. During breaks, the entire set transformed into motion as sponsor logos scrolled seamlessly across all seven screens.
Our video producers recorded the entire program with three manned cameras, creating a live mix that we were able to deliver to the customer soon after the event concluded. All three cameras were recorded individually, along with the mixed program which incorporated all three cameras, titles, and the presenter's on-screen graphics. We also invited attendees to share their thoughts on the event on a greenscreen recording setup in another room, providing material to create a promo video for next year's conference.
In addition to the high end video setup, our audio team utilized a combination of lavaliere, headset, and handheld mics to match the right microphones for each presenter, based on their individual needs and presentation style.
Outside of the general sessions, we also produced a "Spotlight Stage" where vendors were able to host events highlighting their own products and technology for a smaller audience.
An event like this doesn't happen without some careful pre-planning. To ensure that everything went off without a hitch, our team assembled the entire set in our shop one week prior to the event, allowing our designers to produce the on-screen content while watching it live, ensuring pixel-perfect positioning of each and every element well before the show started.
So how did this all come out? Derek Kerton, Chairman of the Telecom Council, had this to say: "VIP AV took our ideas, turned them into vision, and then put that vision on stage to great effect. No request was too big, no detail too small. What stood out to us most was that they were not just an AV team supporting our event, but were part of our team, equally focused on our business goals. It was a privilege to work with such professionals!"