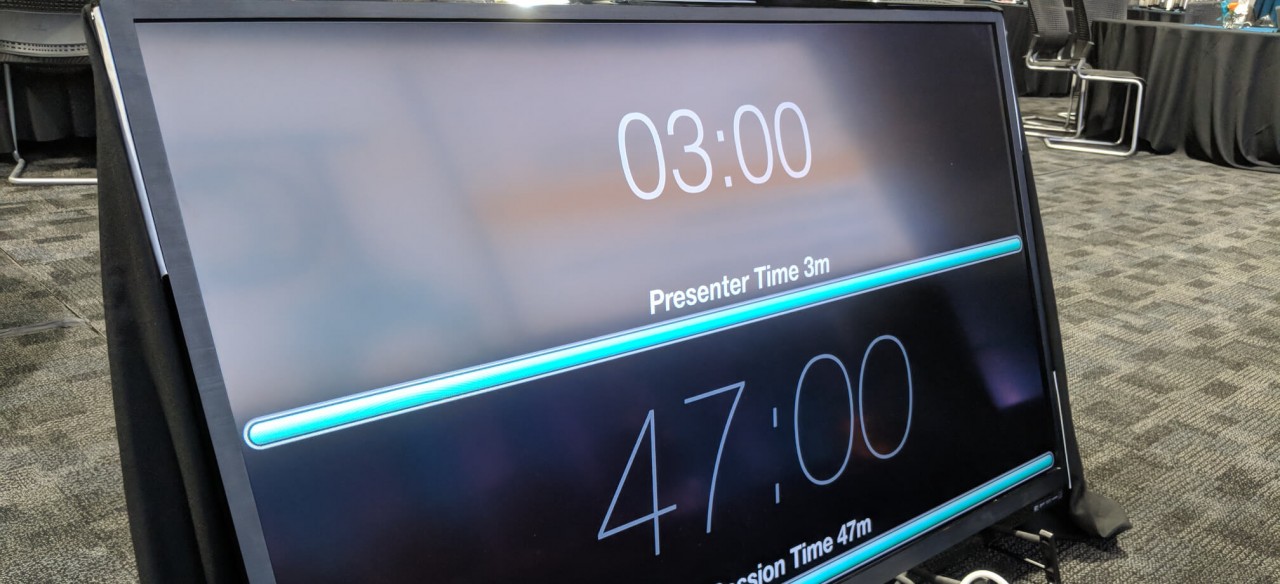 No, it's not a hum in the audio system. It's the sound of your attendees stomachs rumbling in unison as the speaker drones on 45 minutes past their lunch break.
How do you, as the event organizer, prevent this from happening? In this article, we'll share some techniques that we've learned over decades of producing, managing and operating both large and small events.
Does it matter?
Some events are more casual and freewheeling. Nobody cares if people get up in the middle of a session to use the restroom or grab a snack. As long as attendees are seated at round tables and not locked into the middle of a row, running 10-15 minutes long getting to a break might not be a big deal.
Sometimes you'll have a presenter who "owns" a block of time. This might be a keynote speaker who breaks up their presentation by dividing the audience into small groups for exercises, or someone presenting for an entire afternoon. In this case you can often let that presenter control their own schedule, as long as they hit the major breaks for meals within a reasonable period.
Maybe it does
For other events, we live and die by the clock. Multiple presenters, hotel catering, breakouts, and transportation arrangements present hard deadlines which must be met to keep everything from falling apart. If this is your event, you need a definite strategy for staying on time.
Start by planning well. Each person who is going on stage should have their own allotment of time, unless a single presentation involves several people who can work out their own time within the constraints of the overall presentation. These times should be clearly defined on the show script you provide to our team.
It helps if there is one person who has the authority to keep the event on schedule. If this is someone on your staff, they need to be communicating regularly with the AV crew. The last presenter went long – do we pull time from the next three presenters to hit the break on time, or do they get their full scheduled time? Will the break be shortened? Is there content later in the day that can be shortened or eliminated to regain time? The opposite is also true. If a presenter has 10 minutes but only takes 2, do we allocate that time back to other presentations or "keep" it to provide time for later overruns? Has anybody communicated with the catering team to let them know we'll hit the break late (or early)?
Voice of God (VOG) announcements can go a long way towards getting everyone on the same page. Playing an announcement over the sound system with 5 minute, 2 minute, and "hey, we're starting" warnings will let people know that it's time to wrap up the conversations and get back to their seats.
If you don't have anybody on your staff who is available to coordinate these details, we're happy to do it for you, but that authority needs to be specifically delegated to us.
Sending the message
We also need a way to communicate the time to presenters. For smaller events, this can be the tried and true brightly colored papers that you're waving in the back of the room until the presenter sees them.
For a little more professional solution, use a speaker timer. For years, the industry standard speaker timers have been digital displays with large, 4-inch red letters. Placed in the back of the room or on the floor in front of the stage, these simple timers count down the time remaining for the presentation.
While the standard timers still get the job done, VIP Audio Visual utilizes advanced, feature-packed computerized speaker timers for our events. These timers can be programmed in advance with each presenter's name and allocated time, with "caution" times where the display begins flashing slowly to warn the presenter that they're approaching the end of their time. A progress bar can be shown to give an immediate visual indication of their time remaining. When time runs out, the timer can be stopped (nobody is going to cut off the CEO!) or continue running into "Overtime" mode. We can also use these timers to track break times, show a "Time of Day" clock, display custom messages that can only be seen from the stage, and more.
Break Times
One common problem we see is making breaks too short or too long. Sorry, no matter how late you are, a 5-minute break just isn't going to work. In fact, if your audience has just sat through a session that ran long, they're likely to want more time to stretch and use the restroom, not less. At the same time, making breaks too long can sometimes result in the audience losing focus and drifting too far from the meeting room.
Typically we see 20 minute breaks as being the best middle ground. 15 minutes will work sometimes depending on the logistics of the venue, while 30 minutes is usually too long unless you're trying to provide time for networking, exhibits, or phone calls.
Union Considerations
If your event is in a union-controlled venue, staying on time is even more important. Union stagehands and riggers have set times for coffee breaks and meals. Missing those cutoffs can trigger penalties which grow more severe over time, often resulting in thousands of dollars of additional charges. If union labor will be involved in your event, make sure you know what the break requirements are and take those into consideration when planning your agenda.
---
Keeping an event perfectly on time is a bit like trying to hit a moving target from the deck of a rocking boat, but with a little bit of planning, flexibility, and coordination, it's entirely possible to keep things moving. As long as breaks land within a reasonable proximity of their scheduled time you can keep bellies full, bladders empty, and smiles on everyone's faces.