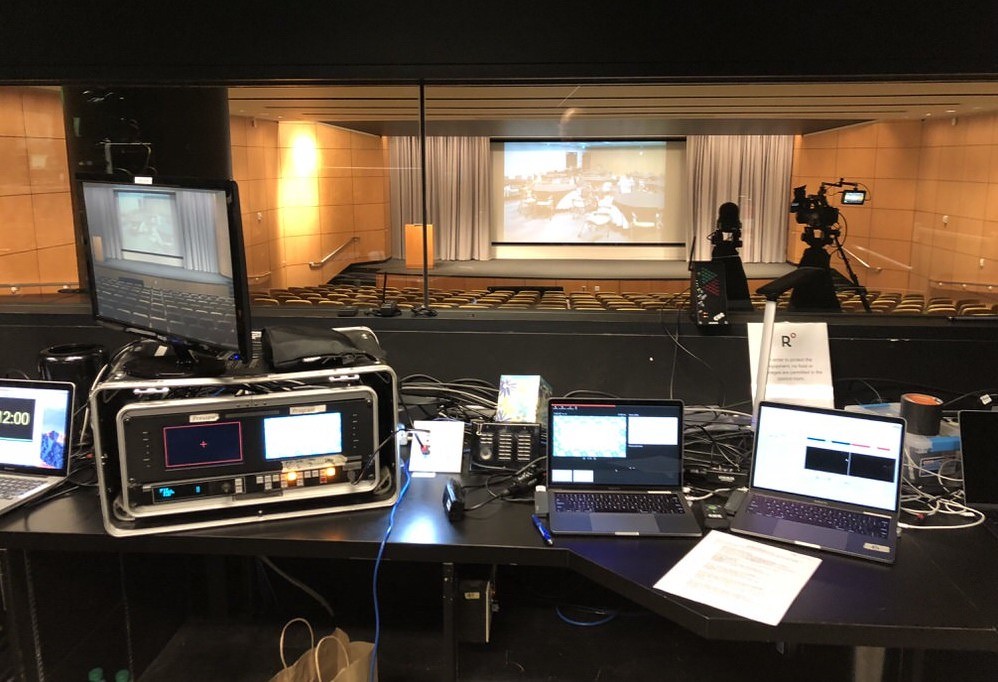 Cameras have a lot of uses in the world of corporate events. Whether we are showing your presenters on the big screens, broadcasting a worldwide web stream, or simply recording for archival purposes, having the right cameras set up in the right places allows us to provide exactly what your event needs.
Manned Cameras
The camera setup that provides us the best image quality and usefulness is the manned studio camera. This is a high-end camera, with a large viewfinder and tripod-mounted zoom and focus controls. Having a skilled operator running this camera allows them to smoothly follow on-stage events: zooming, focusing, panning and tilting all at the same time to create the best possible viewing experience.
PTZ Cameras
The next step down is a PTZ camera, which stands for Pan-Tilt-Zoom. These are robotic cameras which are remotely controlled via joystick. A single operator can control multiple cameras, working in tandem with the technical director to get the shots lined up as they are needed. PTZ cameras are great at the front of the room, where their small size allows us to hide them within the stage set. The PTZ can then be used for audience cutaways and reaction shots. We don't normally like using PTZ's for our primary cameras focused toward the stage, since they don't move as smoothly as a manned camera on a good tripod.
Static Cameras
The final type of camera that we often employ is a static shot. This is a tripod mounted camera without an operator. We will focus this camera on a point of interest on stage or within the room, giving us a good cutaway shot to compliment a manned or PTZ camera. We would rarely use this as the only camera covering an event unless it was purely for archival or reference purposes. (Some events may need a video recording to satisfy regulatory requirements, for instance.)
---
Our camera setup will be based entirely on what you're trying to achieve. If we are doing a web stream of your event, we'll want to allow the remote audience to experience as much as possible of what is going on in the room. A good streaming setup might include two or more cameras facing the stage, with at least one (usually more) PTZ camera pointed back at the audience to capture Q&A or other audience interactions. The manned cameras may also be supplemented with a static camera to provide even more flexibility for our Technical Director.
For in-room Image MAGnification (IMAG), we'll usually cover that with two manned cameras, or one manned and one static which are switched live during your event.
If the use is recording-only, we may not do a live switch at all, opting instead to record ISO (isolated) feeds from each camera and our graphics switcher, providing the editor maximum flexibility in assembling the content during post-production.
Regardless of your goals or budget, VIP Audio Visual has the tools and the team to help you leverage cameras in the best possible way for your next corporate event.